Galkot is home to thousands of diversified culturally rich people, a destination for many and core attraction in Baglung, Nepal.
Located in Baglung district, Galkot is also known as "golkot" was one of the 22/24 states before Prithvi Narayan Shah unified Nepal into one kingdom. Mallas were the king and used to rule across the Galkote area.
People living here are also known as Galkote. People of different ethnic communities, castes, languages and tribes live here. The total population of Galkot is 77, 595 with 40,480 being female.
As Baglung is known as the district of suspension bridges in Nepal, and Galkot being a part of Baglung is rich with numerous suspension bridges spreaded all across.
Many popular local and international artists, politicians, scientists, entrepreneurs were born here. You can find about them in the latter part of this post.
Folk music, panche baja (traditional Nepali musical composition consisting of 5 different instruments), Sorathi Nach, Salaijo are among the most popular entertainment category.
Quick Facts
Province
Gandaki (Province 4)
Area
1100 square km
Population
77, 595 (2001)
Boundary
Myagdi (N), Gulmi (S)
Languages
Nepali, Magar
Major markets
Hatiya, Harichaur, Dudilabhati
Accessibility
by air and road
Major Highways
Mid-Hill Highway
Administrative divisions
Galkot Municipality (10 sub wards)
Tarakhola Rural Municipality
Location
Galkot is a collective name that represents different parts of current Galkot Municipality and Tarakhola Rural Municipality.
It is in Baglung district of Gandaki Province (province number 4) of Nepal. Baglung is also famous for being identically similar to the map of Nepal.
Surrounded by Myagdi, Parbat, Rukum and Gulmi, it lies in the central part of Nepal making Pokhara the closest metropolitan city with the total area of 1100 square kilometres.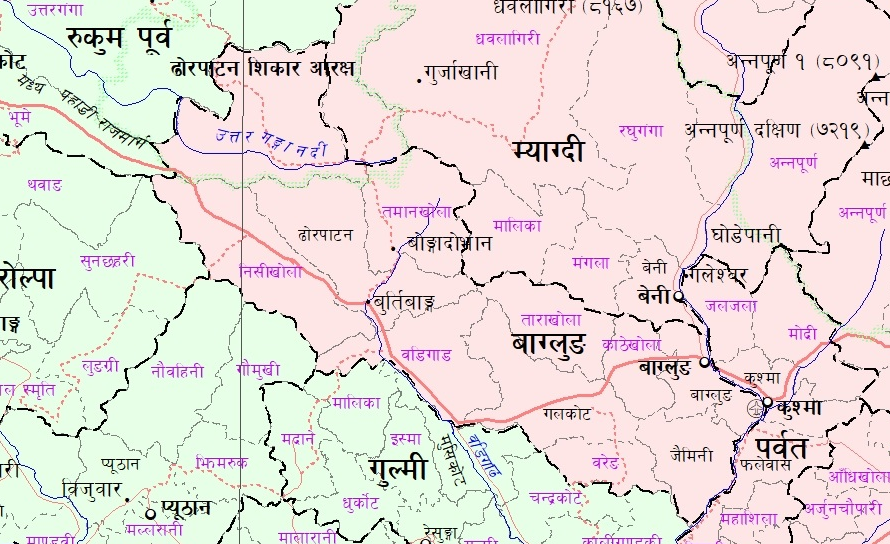 People and the economy
73,595 total population live here with more than half being female.
Residents of different castes, customs and tradition live together in harmony. Major castes living here are Magar, Chhetri, Brahmin and Dalits.
Majority of the population if Hindu, while the number of Christians and Muslims is also increasing because of migration and other reasons.
Chaite Dashain, Saune Mela, Maghe Sankrati etc are the popular local festivals alongside the Nepali festivals like Dashain, Tihar, Ubhauli, Udhyauli, Buddha Jayanti.
With the people being more educated, English is the mode of teaching in most schools. Nepali and Magar languages are widely spoken here.
For daily living, people heavily depend on agriculture and farming. However, this number has gradually declined as many youths and adults go to foreign countries for employment and some join military forces in Nepal, India, UK and Singapore.
Lately, Japan has been one of the attractive employment destinations here.
Because of Maoist insurgency during 2050 – 2060 B.S, many local residents migrated to secured places like Pokhara and Kathmandu leaving everything behind.
This trend is still going on, even though Galkot has been developing rapidly in terms of infrastructure and all-round development.
Administration
Before the enactment of new federal administrative units on 20 September 2015, different VDCs (Village Development Committee) and Wards were present under the Baglung's central administration.
After 20 September 2015, Galkot was divided into Galkot Municipality and Tarakhola Rural Municipality.
Galkot Municipality has ten (10) wards under its administration.
| | | |
| --- | --- | --- |
| No. | Ward | Local Representative |
| 1. | Dudilabhati | Netra Budhathoki |
| 2. | Narethati | Hemanta Bhandari |
| 3. | Hatiya | Bir Jung Bhandari |
| 4. | Hatiya | Bal Bahadur Khatri |
| 5. | Harichaur | Narayan Dhoj Malla |
| 6. | Harichaur | Nar Bahadur Khatri |
| 7. | Malma | Tika Bahadur Thapa |
| 8. | Kandebas | Ram Prasad Kandel |
| 9. | Malma | Tej Bahadur Thapa |
| 10. | Pandavkhani | Tilak Bahadur Gharti |
| 11. | Righa | Dambar Shreesh |
Attractions in Galkot
Galkot is rich with natural resources and cultural heritage. Thousands of domestic and foreign visitors visit here in a year.
After the formation of local government, wards and their elected representatives have been trying to establish Galkot as a major tourist destination in Nepal.
Some of the popular tourist destinations are:
Galkot Durbar
One of the most historical assets of Galkot, Galkot Durbar was the palace of Malla kings who used to rule over Galkot during 22/24 states period.
Now, it has been a major attraction as many local and incoming visitors go here. This durbar has also been able to be on the mainstream media several times. Multiple musical and documentary videos have been shot here.
Ghumte hill
11,000ft above sea level, Ghumte boasts two temples on top; Siddhabhairab and Bhairab. Visitors and pilgrims scale the hill all around the year. Thousands of devotees rich to the temples to worship their god during Buddha Jayanti every year.
Not just religiously rich, Ghumte hill is home to several rare flora and fauna, exotic medicinal plants and majestic hiking route.
From the top of this hill, mind-blowing view of Dhawalagiri and Machhapuchhre, aerial view of Galkot valley can be observed with open eyes.
For promotion and development of Ghumte, a dedicated organization Galkot Ghumte Development Forum has been formed which has been actively working and advocating for the all-round development of Ghumte and Galkot.
Gaighat Falls
Gaighat Falls in Tarakhola Rural Municipality has been one of the go-to destinations for many recently.
With the maintenance and upgrades made and being connected by gravelled road, visitors have started touring Gaighat for picnic, fun and celebration.
Niluwa
Niluwa is at about an hour or two's uphill walk distance from Hatiya and is one of the most beautiful and scenic valleys in Galkot.
Famous for picnics, camping and stay over Niluwa is the must be place for some chill-out with friends.
Pandavkhani
Home to the Magar community, Pandavkhani is culturally rich and always welcoming. Hospitality and friendly gesture of the people here easily wins anyone's heart.
Pandavkhani is also famous for Buddha Jayanti Mela in Siddhathan, sporting, Magar Nach and more.
Infrastructures in Galkot
Even being hundreds of kilometres away from Kathmandu – the capital of Nepal, Galkot has been able to develop itself with the time.
With the Mid-Hill Highway connecting Galkot to entire Nepal, transportation is progressive.
Internet services are available and major mobile service providers have their coverage here.
Talking about health facilities, different government and private hospitals and clinics are available here.
Residents here have the choice of private and government schools to choose for schooling and offer classes up to undergraduate degrees.
Almost all parts have access to 24×7 electricity access.
Hatiya, Harichaur, Narethati, Dudilabhati are the popular markets providing all types of daily living food and supplies. Not to forget, many families here grow their own food and are independent.
Accessibility
One can reach Galkot by road, walk or by air.
Being 300km away from Kathmandu, several buses, taxi and micro-buses directly connect Galkot to Kathmandu. More than dozens of services are available from Kathmandu and from Hatiya.
Or one can transit from Butwal, Pokhara, Baglung, Narayanghat, Sunauli and several major destinations of Nepal.
The nearest airport is about 45km away in Balewa, Baglung, which isn't functional at the moment. So only travel means by air is to take an hour's chopper ride from Kathmandu or Pokhara.
By walk, once can reach here using different trails and routes.
For best suggestions of navigation please check Google Maps or this post.
Public figures
Several public figures call Galkot their home. Some of them are:
| | |
| --- | --- |
| Chitra Bahadur KC | Politician, Former Deputy Prime Minister of Nepal |
| Bishnu Khatri | Folk Singer |
| Basanta Thapa | Musician, Folk Singer |
| Shreekrishna Bam Malla | Musician, Singer |
| Durgesh Thapa | Actor, Model |
How far is Galkot from Kathmandu?
Galkot is 318 km far from Kathmandu. It will take around 10 hours by drive.
Is Galkot a municipality?
It was one of the 22/24 states and now id divided into Galkot Municipality and Tarakhola Rural Municipality. And people still call the whole area as Galkot.
How developed is Galkot?
Galkot is developing rapidly. As people started to go to foreign countries, the economic status has improved and has all facilities available.
How is the weather like in Galkot?
It has a very favourable weather condition. It is never too hot nor too cold. In summer the average temperature will be around 24 degree Celcius and about 16 degree Celcius in winter.